When vacationing in the United States, I usually give trail rides a miss--walking nose-to-tail on dispirited horses in the company of a dozen of my fellow tourists when I ride nearly every day at home just isn't much of a thrill.

I suspected Pebble Beach might be different.

I was right.
The Pebble Beach equestrian center is home to over 50 horses.

The boarder horses range from warmbloods doing dressage to Connemara ponies jumping to

Quarter horses reining--their owners equally varied.

I didn't see the lesson string, but I'm told it comprises about a dozen horses, both English and Western.

The trail string also numbers around a dozen horses, who, when they're not being ridden, hang out untied near a pair of hitching rails in the yard.

I was pleasantly surprised by how content they seemed.

Later I learned that they are all rescued horses, taken out of abusive situations and fostered at a nearby ranch before being trained for the trail. They go out at most twice a day, they're

ridden in mild bits or hackamores, they're well-fed and loved--it's no wonder they're happy. My horse was named Fancy.

She had only been at Pebble Beach for six months, and she had a sweet swinging walk and was a pleasure to ride.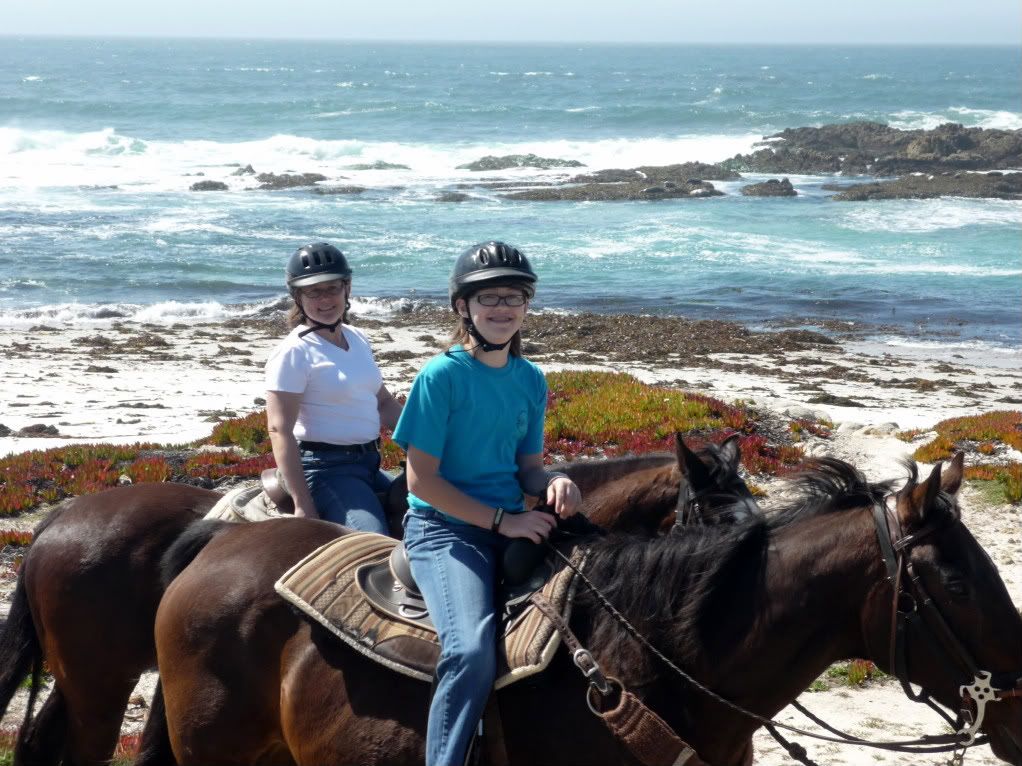 (Kim and Katie enjoying the beauty of Monterey from horseback)
The horses are good, but the scenery makes the Pebble Beach ride great.

It's hard to top riding along windswept dunes

with flowering ice plant knee-high on both sides, the taste of salt spray in your mouth, while in front of you cobalt waves crash into white surf along the golden beach.

I didn't even mind keeping to the walk--the sand was too deep to go fast anyhow, and the view too pretty to rush. The trail crossed Spyglass Hill golf course--we saw the boys playing--and, in the woods, offered this tantalizing view of the ultra-private Cypress Point.
(Unfortunatley, this is the closest the Bradleys got to Cypress Point)
(the boys took this picture from the 5th hole at Spyglass --the women witnessed the Redemption from horseback --see the Dreaded Ice Plant post below)
guest blogger: Kim Bradley
special photos: Katie Bradley