In 1997, I first traveled to the Monterey Peninsula.

Following a beautiful day at Pebble, my close friends Pat and Dave, and I set out on Spyglass Hill.

The first few holes at Spyglass are absolutely magical-- quirky, exposed sand, crashing waves--golfers' heaven, and despite being stung by a wasp between the shoulder blades on the first tee, I was playing well.

In fact, I arrived at the 5th tee even par.
(tee shot on the par 3 5th at Spyglass Hill as it looks now)
Young and inexperienced, I suffered from the card-and-pencil mentality:

My score was important to me.

The 5th is a medium-length par 3, but on that day it was playing into a strong wind.

I chose to hit a 5-iron.

I made great contact and was able to keep the ball low.

The ball sailed directly toward the green.

I felt great.

But the ball was unaffected by the wind and carried over the green.

Oh well, I thought, I'll get it up and down from there.

I walked up to find my ball sitting beautifully on top of a plant I'd never seen before.

Ice plant.

It looked like a great lie, some 15 yards beyond the green.

Looked.

I took out my 56 degree wedge (60 degree wedges were not yet in vogue) and calmly swung at the ball.

My club went directly under the ball, causing it to fall straight down and settle between the stems of the plant.

Hmmm.

I swung harder this time and the ball moved a few inches into an even worse lie.

Some 5 swings later, I had moved the ball within a foot of the edge of the ice plant.

Now swinging with all my might, I finally extracted (shot) the ball from(out of) the dastardly plant, but unfortunately sent the it halfway back to the tee.

Turning around I realized that I had probably removed 15 pounds of ice plant from the hillside….a crime scene might have been less of a mess.

I don't have a picture of the carnage, but if I did, you'd probably say that it looked like an ATV had gotten stuck in the ice plant and spun its wheels for a few minutes trying to get out.

I finished the hole with a 12.

I never recovered.

The event became forever known as "the dreaded ice plant incident".
(special attention to the area directly behind the pin, now sand and bushes--all of the ice plant has been removed)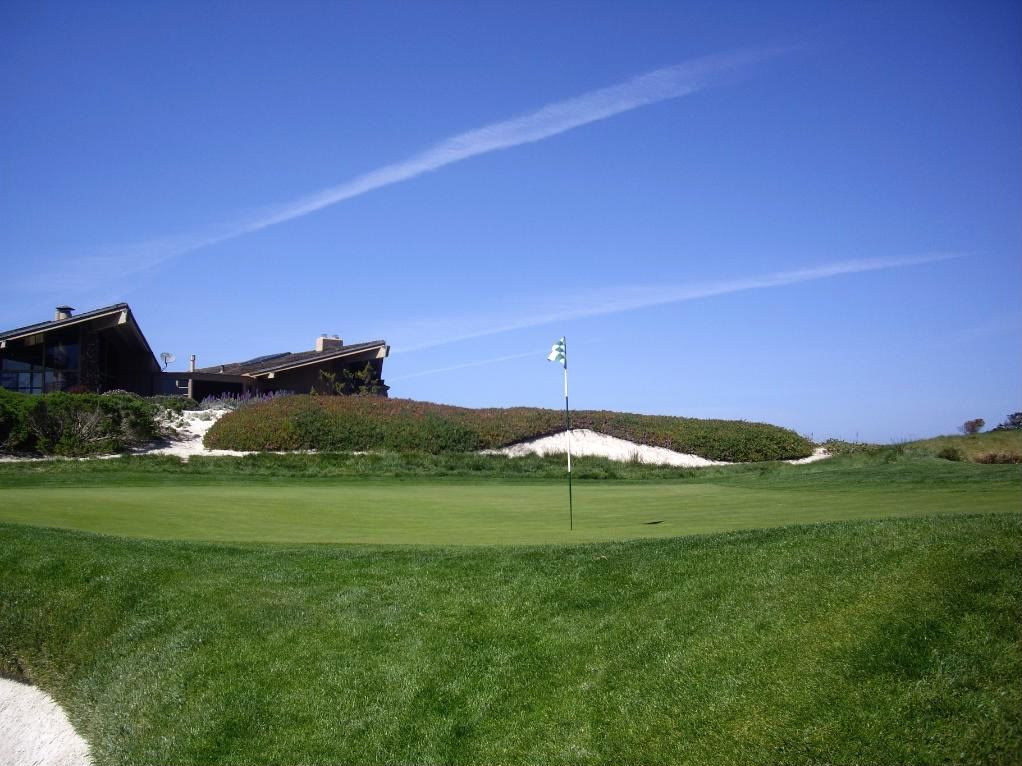 (close up of the green and former ice plant area)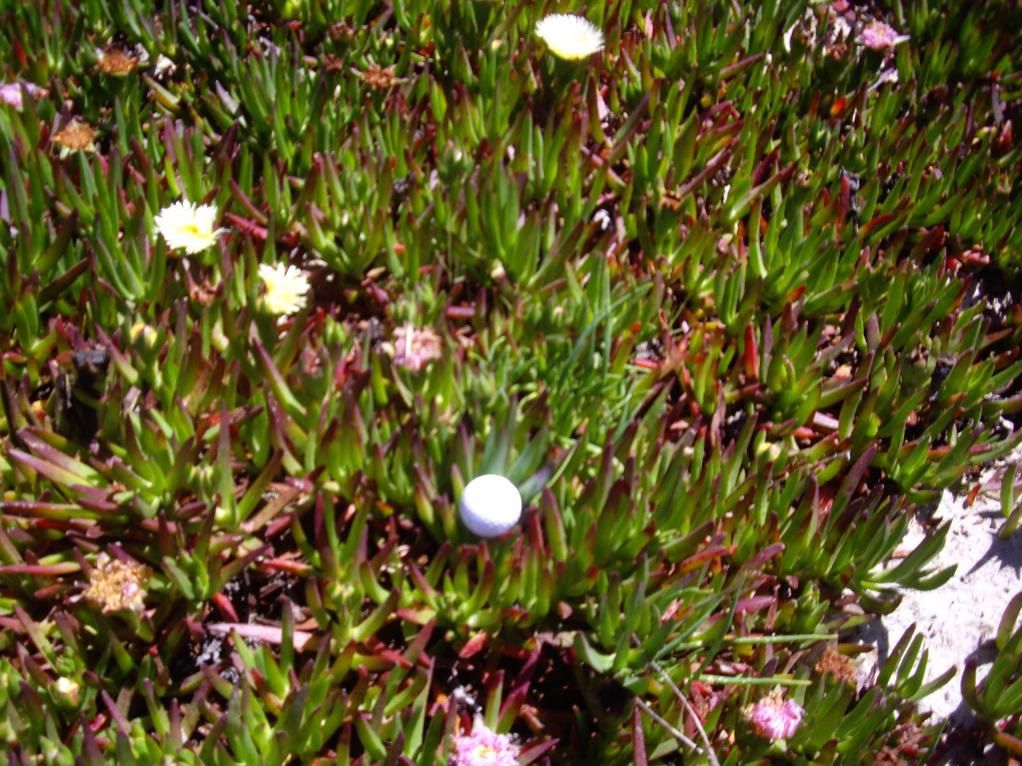 (a re-creation of the original lie in flowering iceplant)
Well, I finally returned to Spyglass last week.

I got to the 5th tee having birdied the 4th to go back to +1.

My score is no longer so important to me.

Don't get me wrong.

I like to make pars and birdies--who doesn't?

But since my multiple orthopedic problems, I am just grateful to be able to enjoy the game at all.

And now, much of the time, I get to enjoy it with my son.

I doubt there are many things as pleasurable as sharing your passion with your child.

Here I was, on a spectacular Monterey afternoon, playing Spyglass with my son.

We have had more than our share of these days--strolling the fairways, seeing the great places in golf, chatting about the architecture.

I am surely blessed.
Less wind this time.

I certainly didn't want to go long; I had learned that lesson 14 years ago.

The tees were up.

I decided to punch an 8 iron.

A bit over the top, I hit a slight pull.

The ball settled happily on the left side of the putting surface about pin high.

Two putts later, I had made my par.

Redemption.
The dreaded ice plant no longer surrounded that hole—it had been removed and replaced by bushes. (Had I really done that much damage? But they've removed ice plant from all over the course, so maybe I wasn't solely responsible.) This time I had my conniption on the 6th hole, making triple bogey (I am sure I had an emotional letdown after the 5th
J
).

I didn't mind.

I returned to Spyglass a worse golfer but better person.

I will remember both trips for the 5th hole, but mostly for sharing the experience with my son and close friends.
check out my golfclubatlas post about Spyglass Hill's first 5 holes with some pretty good photos: http://www.golfclubatlas.com/forum/index.php?topic=48571.msg1094942;topicseen#msg1094942
Bart