(Cashel House Hotel 2009)
On our last family trip to Ireland, I did not initially plan for us to stay at Cashel House, but the family protested en masse.

How could we go to Ireland and not go to Cashel? It was, the children protested, their favorite hotel in the world.

I had to admit that I agreed with them--back to Cashel we went.
Cashel House is a mid-19th century manor home on the edge of Cashel bay, surrounded by some of the prettiest gardens anywhere, with a famed Connemara pony stud out back.

It opened as a hotel in 1968.

The Connemara region of Ireland is wild and glorious, underpopulated, and unspoiled.

Cashel sits like a small gem in the middle of very little else; a trip to Clifden, Connemara's main town, takes an hour along winding roads where every turn brings fantastic scenery and a good chance you might run over a sheep.
Our family time slows down in Connemara.

We start our days with the best Irish breakfast ever, served not a moment before eight (if you wake earlier and would like some coffee, too bad--you're on holiday, learn to sleep in).

You'll hear the morning staff murmuring in Gaelic before they open the dining room doors--this is one of the last parts of Ireland where Gaelic is commonly spoken.

Anyway, breakfast includes the usual fruit, cereal, yogurt, toast, eggs, sausage, tomato--but Cashel branches out to Irish cheeses and the option of fresh local trout.

The dining room itself is stunning--full of antiques as is the rest of Cashel house, but, like the rest of Cashel, homey, comfortable, and bright.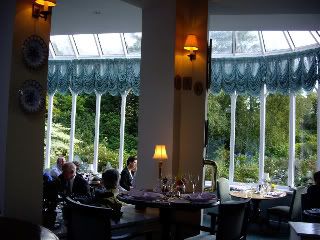 (Cashel House Dining Room)
Well-fortified, we are off for a day of adventure--perhaps a round of golf for the boys at Connemara Golf Club, while the girls take a two-hour ride on the beach.

Or we might hike in Connemara National Park, getting an occaisonal glimpse of wild Connemara ponies.

We love to explore the galleries and pubs of Clifden.

Whatever we do, we try to leave a bit of afternoon time to spend back at Cashel House.

We'll explore the garden paths, pet the horses in Cashel's stable or walk down to the beach (visitors are welcome to swim, but you'd have to be Irish--and used to frigid water--to try it).

Then we repair for a drink in the first-floor bar-cum-tea room before heading upstairs to shower and dress for dinner.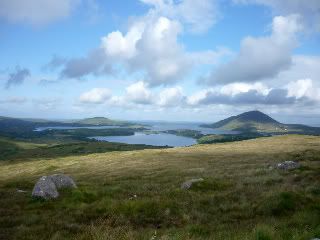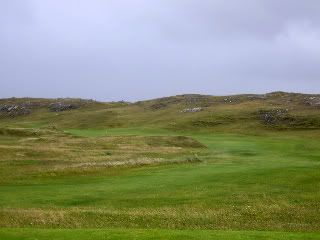 (Connemara Golf Club - an unusual mix of links and exposed rock that is typical of the Connemara countryside)
(Elevated 14th tee with the ocean waves in the backdrop)
Dinner at Cashel is a two-hour affair.

The Contintental-style menu changes daily, highlighting whatever is fresh and in-season. There isn't a set children's menu--no nuggets here--but the staff offers smaller, simpler versions of most items.

While the grownups enjoy a starter of melon wrapped with proscuitto, four-year-old Katie ate a plate of melon; seven-year-old Matthew's small pork loin came with no sauce at all.

The service is impeccable, unhurried but never too slow. Owner Kay McEvily might stop by to ask how our day went, and offer suggestions for the morrow.

After dessert, we're invited to take coffee in the adjoining parlor, but we're more likely to head past the peat fires back to our rooms, to sleep hard and wake ready for more adventures.
Guest blogger: Kim Bradley
For more info and photos about Connemara Golf Club check out this thread on GCA.com:
http://golfclubatlas.com/forum/index.php/topic,41093.msg869381.html#msg869381